I'm sorry this review is taking so long! My daughter (and model) has ADHD and her medicine stopped being effective. This didn't happen suddenly, but her doctor suddenly decided to listen to me, so he changed her medicine. She had a bad reaction to what the changed her to, so they changed it again... In the meantime, she's completely unable to focus or sit still... Kind of difficult to straighten her hair if she can't stop jumping around! LOL So, I finally got to straighten her hair, and thus, part 1 of the Nu-Me review! Her new medicine takes some time to get into her system, so right now you can't even tell she's on medicine, and she can't cooperate for me to curl her hair. It's not her fault, and I'm NOT blaming her... Just telling you guys what's going on and why it's going to take some time to get that done.
Okay, onto the review! This is for the Vintage Flat Iron... I bought the pink one.
Outside so you can see how pretty and bright this pink is!
http://www.numeonline.com/shop/products/Vintage.html
The Claims:
(From their website, linked above)
" NuMe's best selling Vintage professional styler is the original 100% solid ceramic iron that brings shine and luster back to the most course or wispy hair. With its rounded barrel design, it's ideal for transforming your hair to any glamorous look - silky straight, voluminous waves or perfect curls. Great for all hair types.
The NuMe Vintage is a classic Professional Styling Iron with a unique alignment system that ensures ideal contact between your hair and our 100% tourmaline ceramic plates. Using pure ceramic plates ensures even distribution, eliminating the hot spots and chipping associated with conventional irons. Our 100% ceramic plates emit negative ions which seals moisture in the hair cuticle keeping your hair shiny, healthy and silky smooth."
Tourmaline-infused ceramic plates prevent dry and damaged hair.
Negative Ion Technology Reduces Static and frizz for shinier, more manageable hair. Rounded Barrels create curls or flips your hair.
Infrared Heat Technology. Gets faster results while maintaining your hair's health and integrity.
Heats up in seconds, reducing wait time.
Ergonomic design is easy to hold, handle and manipulate/
Built-in converter handles dual voltage from 110v to 240v (you must purchase the country's proper plug adapter separately) Temperature 410 degrees F
Before
Before
The truth is...
The NuMe Flat Iron does have ceramic plates and it definitely brings out the shine in your hair...
The hair is soft and wonderful to touch after use
The Iron has a knob to adjust the temperature, but they put it inside the iron, below the plates (pic will demonstrate) so you do have to be kind of careful when trying to adjust the temp. Not much room there.
Because of the rounded design, you CAN create big, loose curls, or flips. They're beautiful. The woman who demonstrated the iron showed me. I haven't figured it out yet, but with a bouncing 10 year old, I didn't have much time to practice. LOL
There is a 3 year warranty on the iron, so if you break the plates (essentially ceramic tiles) they will replace it, or if it stops working for any reason.
The iron is VERY well designed, there's no denying that. The cord swivels, so you don't get all tangled up, and the hinge doesn't catch your hair (I was surprised!)
I love the feel of it in my hands. It's well-balanced, and lightweight, but clearly not cheaply made.
There's a light on the Iron that turns green when it's reached the desired temperature, and red when it's heating up.
I haven't seen any damage to my hair, or my daughter's. Actually, the iron brings out the oil, so our hair may actually be getting some benefit, though this isn't proven. Time will tell...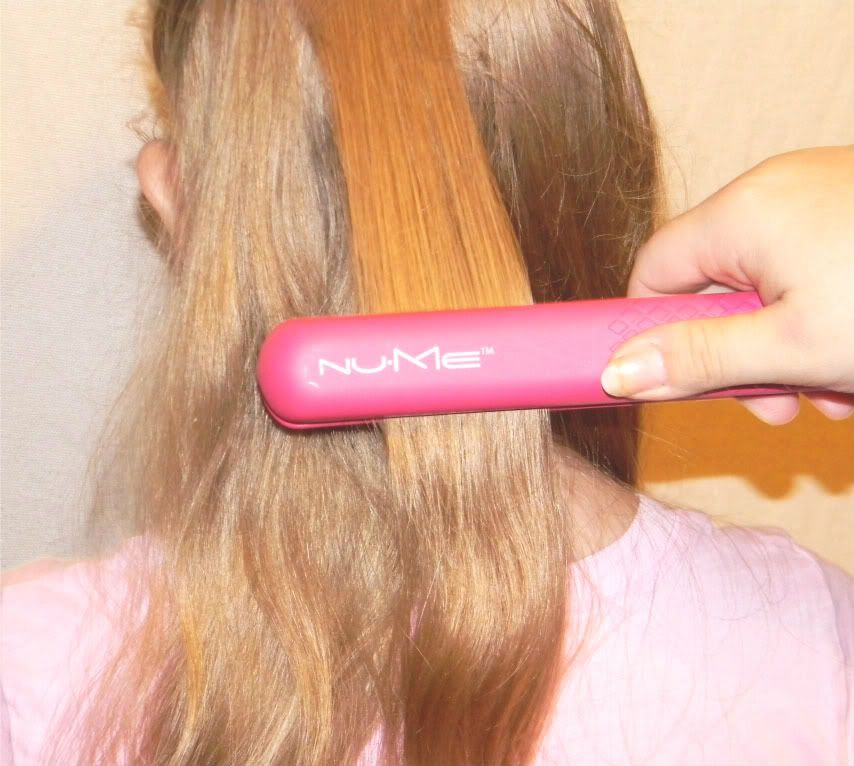 Straightening
The bad...
On the outside of the wand, near the plates, it does get pretty hot. I wouldn't say it's untouchable, but it isn't comfortable, and you couldn't hold it for long.
As with any heated product, you CAN burn the hair, so be careful (This isn't just the NuMe, but I wanted to point this out, just in case)
It DOES make our hair oily. I don't know if it's just because we have naturally oily hair, but it DOES make our hair oily after a while. It isn't immediate, so we can go out for hours without worrying, but after several hours (8 +/-) our hair does start to look oily.
Depending on the texture of the hair, and the temperature setting, you may have to do more than one pass with the iron. It's a learning process, as is just about anything.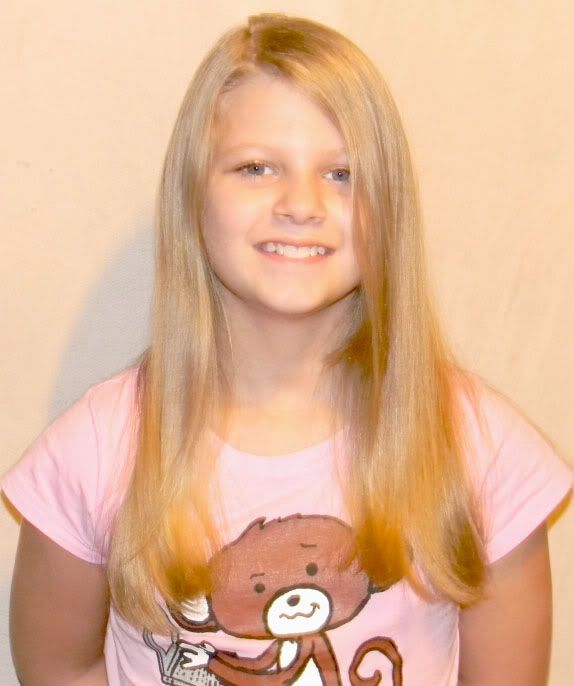 After
After
Overall...
I absolutely recommend this for anyone looking to straighten their hair. I didn't use any products on our hair while doing this review, as I wanted the effect unspoiled by products made to straighten hair... I LOVE my NuMe, and will never use another flat iron!
*DISCLAIMER* Just so everyone is aware, I am not being paid or compensated in any fashion for this review. These are my honest opinions, and I stand behind them. The good, the bad, and the ugly. I purchased this product with my own money, and chose to write a review. Thank you!
Tweet